When Marcus Seidl was offered the position of captain on Statsraad Lehmkuhl in 1994, he had to resign his US citizenship. Seidl accepted the offer on the spot and he has never regretted it.
In the 1990s, there was a requirement for Norwegian citizenship for all captains of Norwegian ships.
– It was a very solemn ceremony at the American embassy in Oslo. I remember the ambassador repeatedly asking me, "Are you sure you want to do this?" He could not believe that anyone voluntarily would give up their US citizenship. But I was sure. It was definitely worth it, the captain smiles.
Marcus, or Marc among friends, has literally grown up on sailing ships and has been a captain on Statsraad Lehmkuhl for more than 25 years. Despite this, Seidl can still be captivated by the large ship.
– Even after all these years, when I go ashore, I always have to turn around to look at the ship. It´s pure joy to look at something that is so beautiful, he says.
Not only did he find the job of his dreams on Statsraad Lehmkuhl. The woman of his dreams also appeared on the main deck one summer in the late eighties.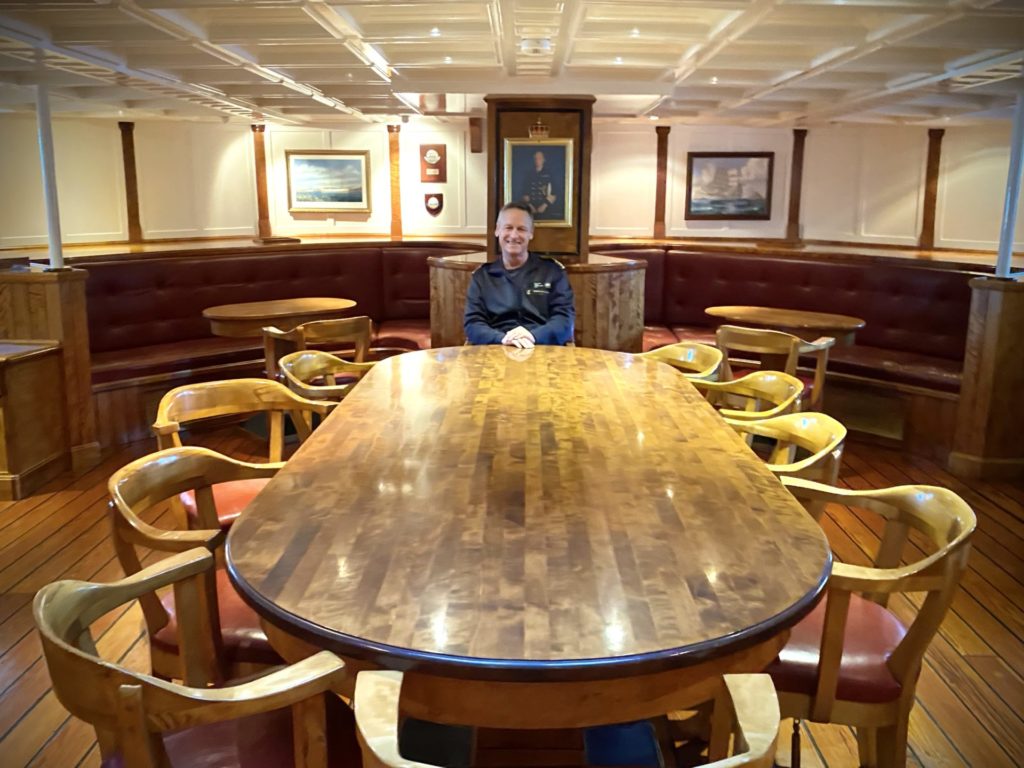 An adventurous upbringing
Seidl meets us in the elegant Captain's Lounge, which has been kept virtually unchanged since the ship was built in 1914. In addition to housing hte captain's office and an attached cabin, the lounge is regularly used for representation and meetings. He shares the job as captain with Jens Joachim Hjort.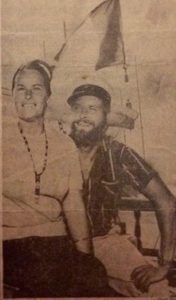 Marcus Albert Seidl (57) is often described as a friendly, skilled and sociable man who loves people. But if his appearance is low key, the background is all the more unusual. He was born in Vancouver, Canada, where his German parents had emigrated in the late 1950s. Already when he was 5 years old, the whole family put out to sea in his father's home-made yacht Illahee.
– We sailed in the Pacific for a few years, and visited Mexico, Panama, Columbia, Costa Rica and maybe some other places as well, can´t remember it all. It was something of a long adventure for a little boy. But I vividly remember when we were robbed by pirates. The police came to the rescue and shots were fired. Fortunately, most of the trip went by in much calmer surroundings, Marcus smiles.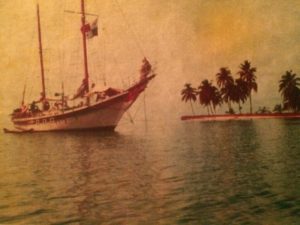 The family boat was named "Illahee", a Native American name meaning land or land.
– My father Albert had a lot of contact with the Native Americans in Canada, and tried to help them with some social challenges. For his efforts over several years, he was appointed honorary Indian chief with regalia and a large ceremony. My mother became an Indian princess, it was quite fun.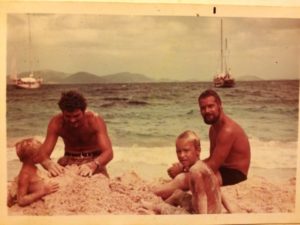 Galapagos Islands in the late 60's.
Boat building in Kristiansund
When the parents divorced, the two older sisters stayed with their mother in Vancouver. Marcus and his one year younger brother, David, went to Norway with their father.
– Us going to Norway was completely coincidental. Albert, my father, who was an artist, an idealist and an adventurer, had been searching for a special type of ship for a long time. And he found one in Kristiansund. He arrived in Norway with 10,000 dollars stuffed into his boots and bought the boat in cash.
For the next two years, they lived on board while the boat, a galeas that had previously been used in clip fish, was completely rebuilt.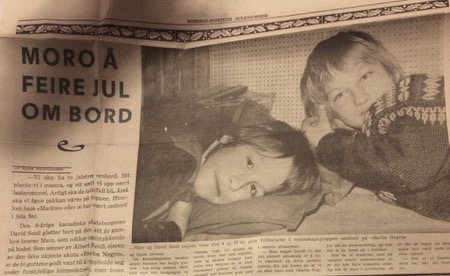 – David and I were 7 and 8 years old when we started at the local primary school. We probably attracted some attention in little Kristiansund, foreigners who lived on a boat and spoke English. However, we quickly learned to speak Norwegian, and we had to interpret for Albert when he went to the bank and in shops. I remember it as a very nice time in my life.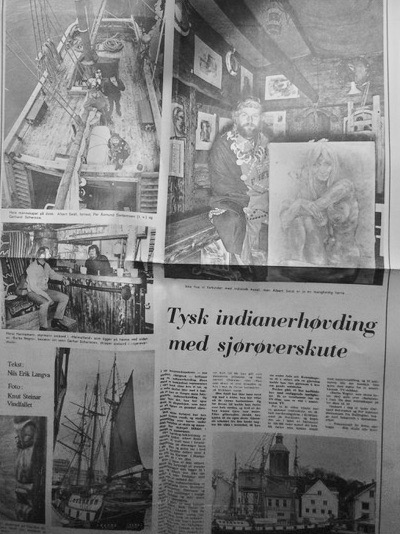 Environmental commitment at sea
In 1973, Albert, Marcus and David left Kristiansund and sailed for the USA with "Barba Negra", which the boat was renamed. At the same time, Albert started "Save Our Seas", an organisation that engaged in environmental issues. They took on various assignments, including submitting oily water samples. The samples helped to map the extent of pollution in the ocean.
Using a hydrophone, an underwater microphone, they recorded whale signals. Researchers, some of them from the US military, wanted to find out how the animals migrated and communicated underwater over distances of up to 500 nautical miles.
– When the speed of the recordings was lowered, we could clearly hear how the whales "talked together", and that made an impression, Marc says.
Never scared
Marcus, David and Albert sailed across the Atlantic and in the Caribbean for a few years.
– It was a wandering hand-to-mouth sort of lifestyle, but also a great way to grow up. In many ways it was quite carefree. We didn't´t have to cope with ordinary routines, such as the young people on land. Since we left Canada, we had not lived in a house on land.
Although they had to deal with both storms and stranding, Marcus never worried about his safety.
– David and I were part of the crew and learned early on to work together on the various tasks on board. I remember standing at the helm in both storm and even snow, but I was never afraid, even maybe if I ought to. Youthful arrogance, perhaps, he laughs.
Eventually, they anchored up in Savannah, in Georgia, USA, but it was not long before the brothers missed the long voyages and going to new ports.
Mustering on Christian Radish
In 1980, they mustered as trainees on the Norwegian school ship Christian Radich, which had spent the winter in California.
– The sailing ship community is not very big, and we had seen the beautiful ship on occasion. Both David and I signed up on Radich in San Diego and we had a fantastic voyage down the coast of South America, via the Caribbean to Boston, before we crossed the Atlantic and arrived in Oslo six months later. Before we went back to USA, we attended a celebration in Oslo City Hall where the crew were awarded diplomas for winning the Tall Ships Race regatta Boston – Kristiansand.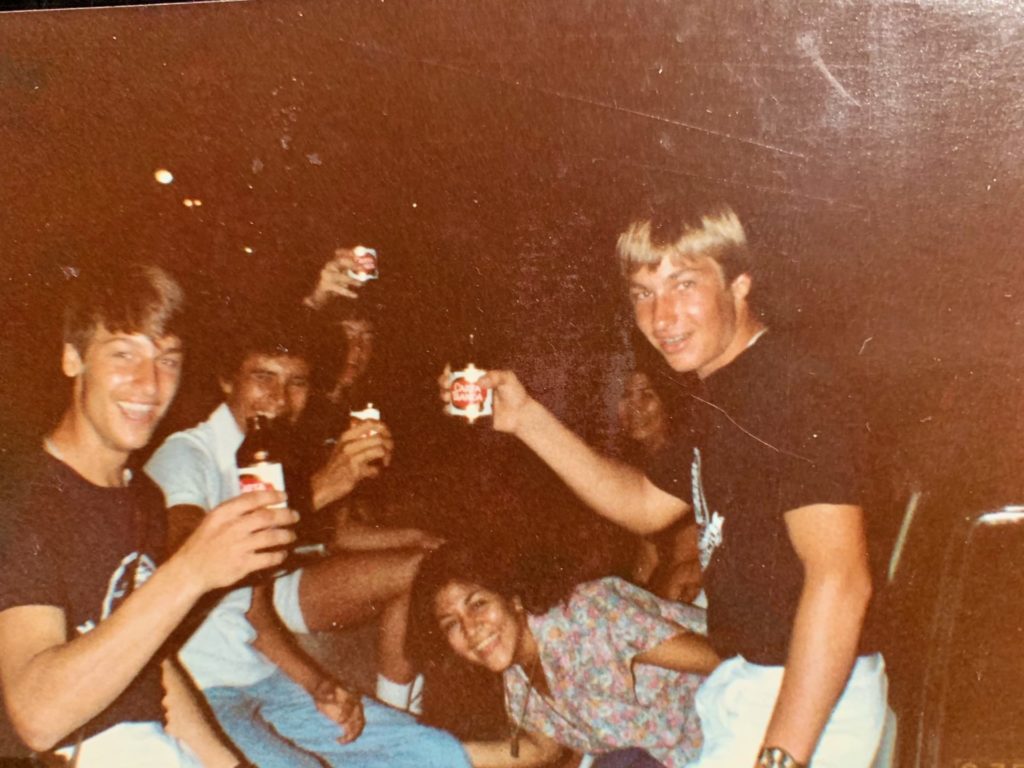 Dreaming of big sailing ships
The two brothers changed their citizenship from Canadian to American, in order to get hire on American merchant ships. But the dream of life on board a big sailing ships became too strong, and after a few years Marc was back on Radich, this time as a sailor. David followed one year later.
– I could not imagine anything other than working with large sailing ships. To this day, it is the long voyages I enjoy the most. The rhythm one falls into, the calmness that comes to you.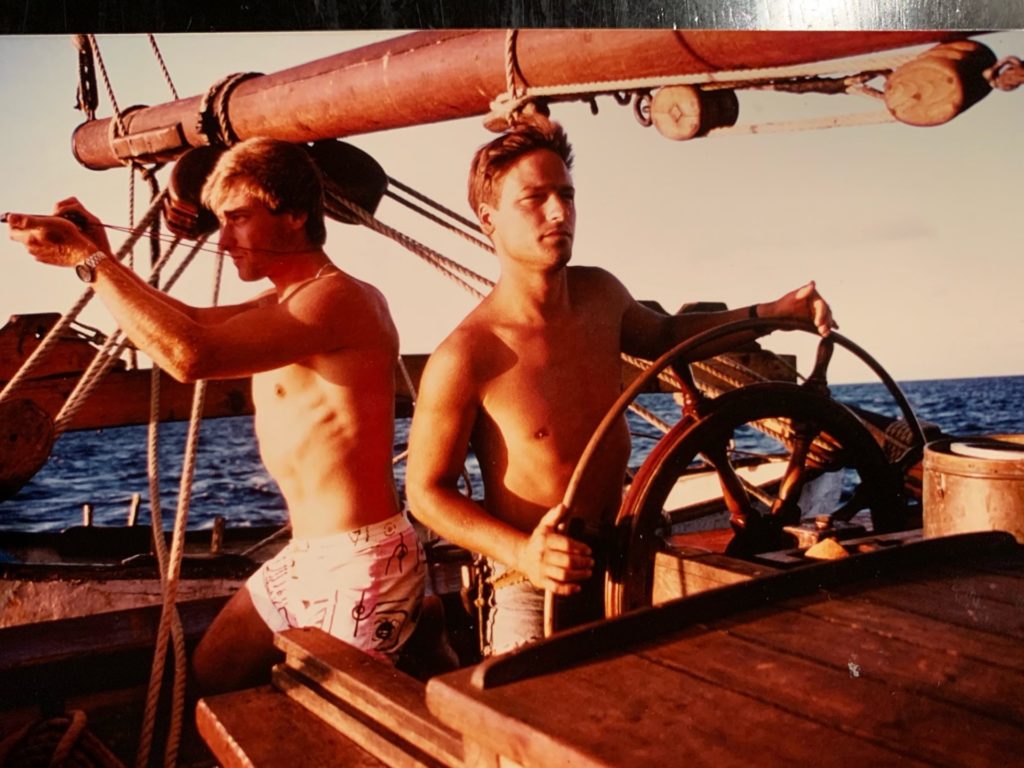 Then followed a few years of traveling back and forth between Norway and the US. In the summers they sailed with Radich, while the winter seasons were spent at home in Savannah. They often worked for his father Albert in his newly established business, repairing and furnishing boats.
First meeting with Lehmkuhl
The desire for a permanent position on a Norwegian sailing ship led them to the Maritime College in Tønsberg. he problem was only that they the lacked necessary school papers.
– Growing up, our schooling was quite random, depending on who happened to be on board at the times, Marcus smiles.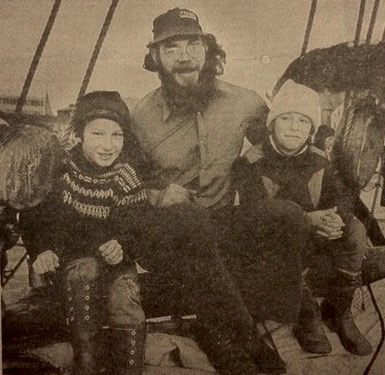 The solution was to take an exam in the USA, which determined that they had general knowledge corresponding to "high school" level. With their knowledge well documented, they embarked on their education as navigation officers, and after graduating in 1986, both brothers were offered a job as third officers at Statsraad Lehmkuhl on a voyage to Bremerhaven.
– Everyone had heard of Lehmkuhl and I had seen pictures of the ship. But when I arrived in Bergen and saw her at the quay, I was quite stunned. She was impressive, much larger than I had imagined.
However, it quickly became obvious that Lehmkuhl was in desperate need of maintenance after being virtually inactive lying at quay for over ten years. However, after a few weeks of preparation, they were able to launch the first voyage in many years.
Love on the first voyage
The brothers thrived and stayed at Lehmkuhl. Shortly after, Marc Brit met Anita.
– I´l will never forget the first time I saw her. I was sitting on the main deck repairing sails when a beautiful blonde came across the gangway. My first thought was: This will never go well! She was dressed in cowboy boots and jeans and looked more like she was going on a cowboy safari than on a sailing voyage, he laughs. But Brit Anita and Marc became sweethearts on the first voyage, and they have sticked together ever since. And the wedding party was of course held at Statsraad Lehmkuhl.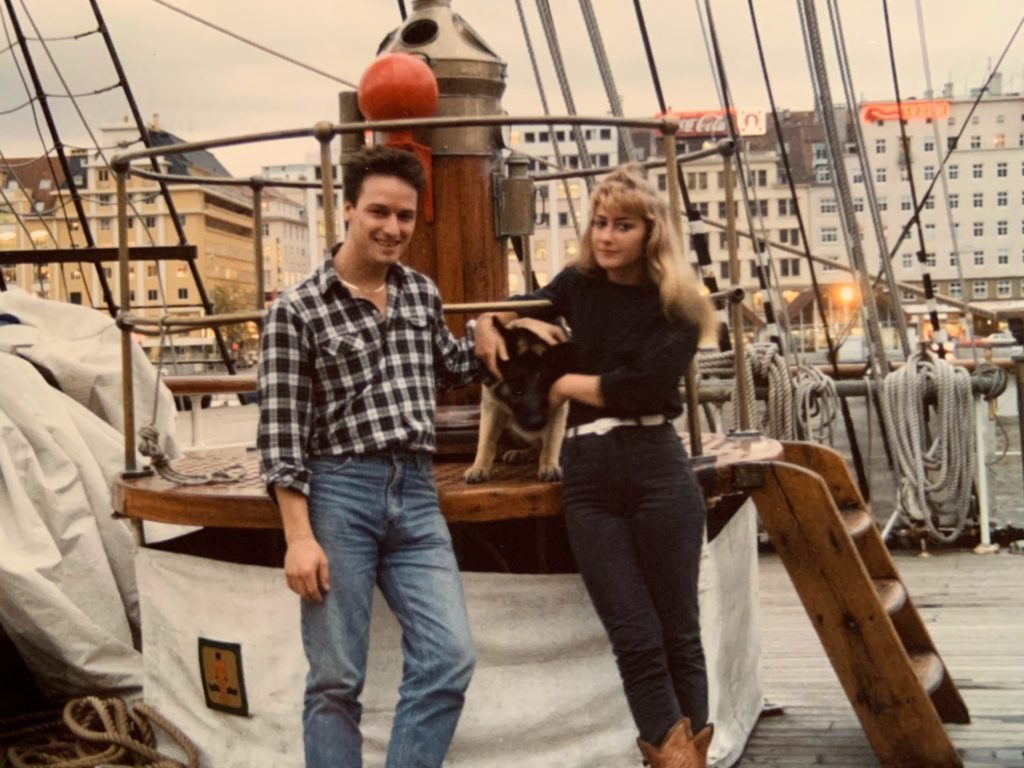 – We worked together on board for twelve years, Brit Anita in the catering and I as navigation officer and eventually captain. When she became pregnant with our daughter Alexandra, she had to go ashore. Fortunately they have joined me on countless voyages over the years, that´s been a great privilege.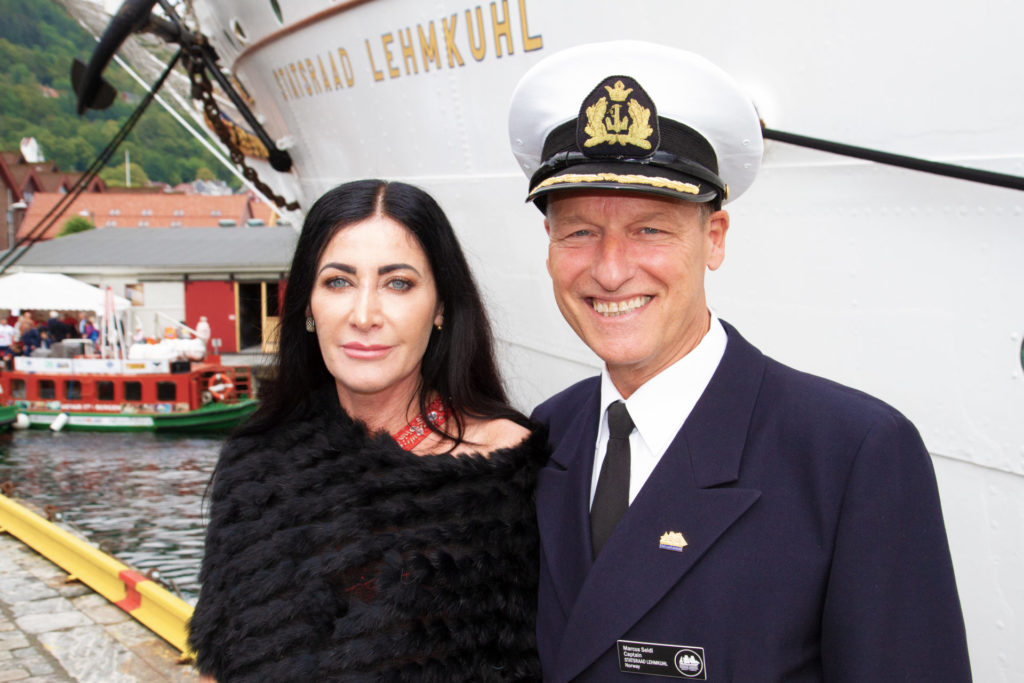 The Seidl family
His younger brother David is also still close to Marcus. The two brothers, who followed each other closely growing up, have also worked side by side at Statsraad Lehmkuhl. Today, David is the chief officer on board. According to Marcus, they agree on most matters.
– That I ended up as captain and not David, may be due to the fact that I am more fond of the other parts of the job; representation and active promotion of the ship at conferences and lectures.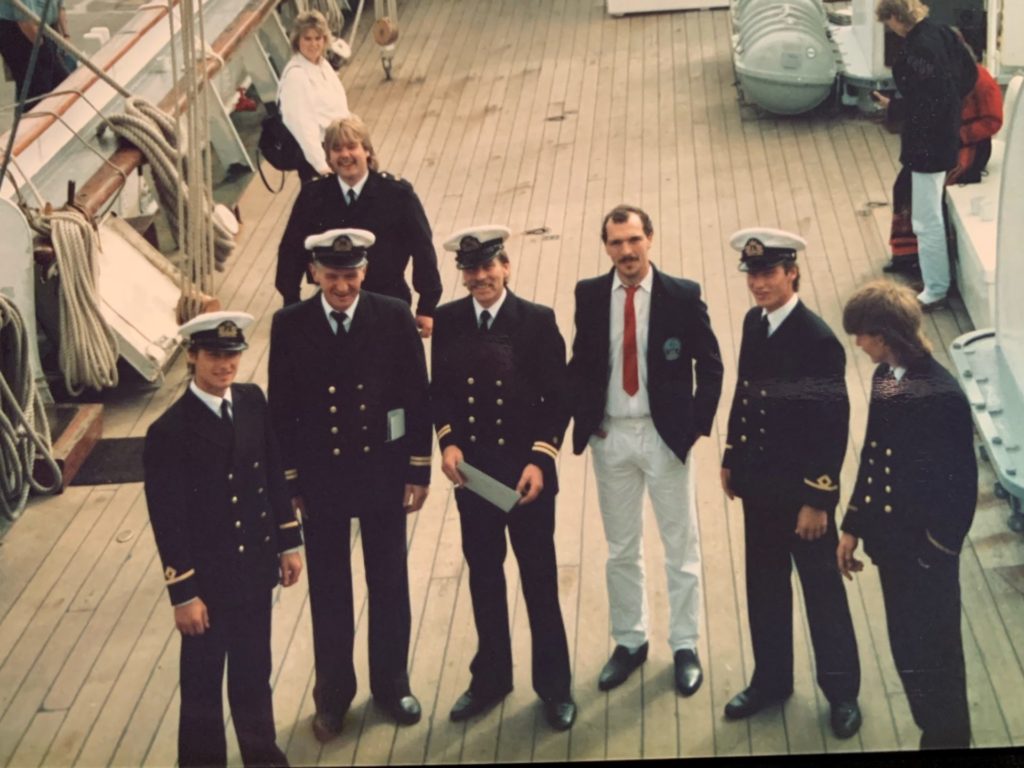 The brothers have settled with their families in the same neighbourhood in Bergen.
– With a like-minded brother as a colleague for many years, the collaboration has worked very well. Not least, it's nice to have someone you know well to talk to about life's big and small things.
All the Seidl siblings stay in touch.
– Unfortunately, both our parents died last year. They eventually remarried, and David and I have a close relationship with our stepmother. Our two older sisters and a younger step-sister still live in Canada. We visit them all on a regular basis, and they have also visited Norway.
A massive change
According to Seidl, Statsraad Lehmkuhl has undergone a tremendous development since he came on board almost thirty-five years ago.
– In the beginning, we only sailed a handful of voyages each year, and the activities were partly dependent on voluntariness. During the winter, Lehmkuhl lay at quay, and we had to get hire on other ships. Among other, I worked as first officer SS Norway, sailing on cruises in the Caribbean. On two occasions I was on board Christian Radich as captain. The winters on Radich were a nice end to that chapter in my life, says Seidl.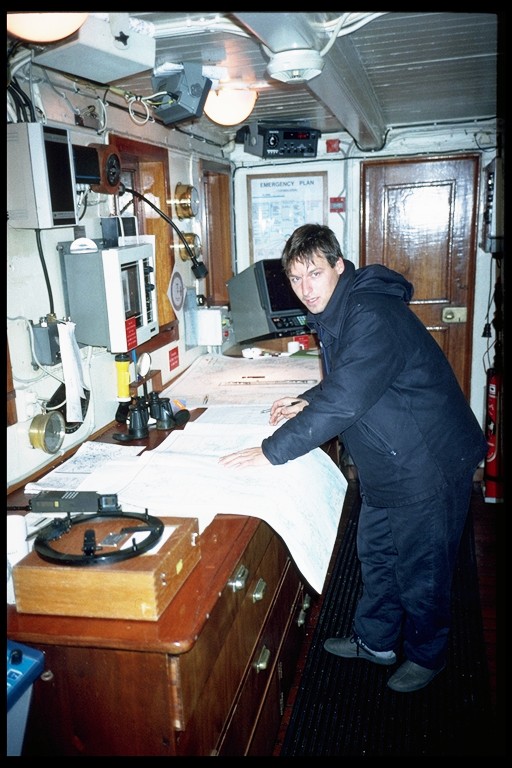 Throughout the 90s, the sailing seasons gradually expanded for Statsraad Lehmkuhl. Since 2002, when the Royal Norwegian Naval Army came on board with annual Atlantic voyages as part of the leadership training for its cadets, the ship has been in year-round operation.
– Everything has only gone one way: up and forward. The ship has received massive upgrades and is in better condition than ever. The foundation has been consistently professionalized, also the administration on land.
Preserves the authenticity
But the sailing itself is relatively unchanged at Statsraad Lehmkuhl.
– That's also a bit of the point. It´s very important for us to maintain the authenticity of the ship. Not only in all the details in materials and the way the rig is constructed, but also in the experience and the training in traditional seamanship. It´s easy to create simpler, faster solutions for many of the elements on board, but we do not, although it can often be more labor-intensive.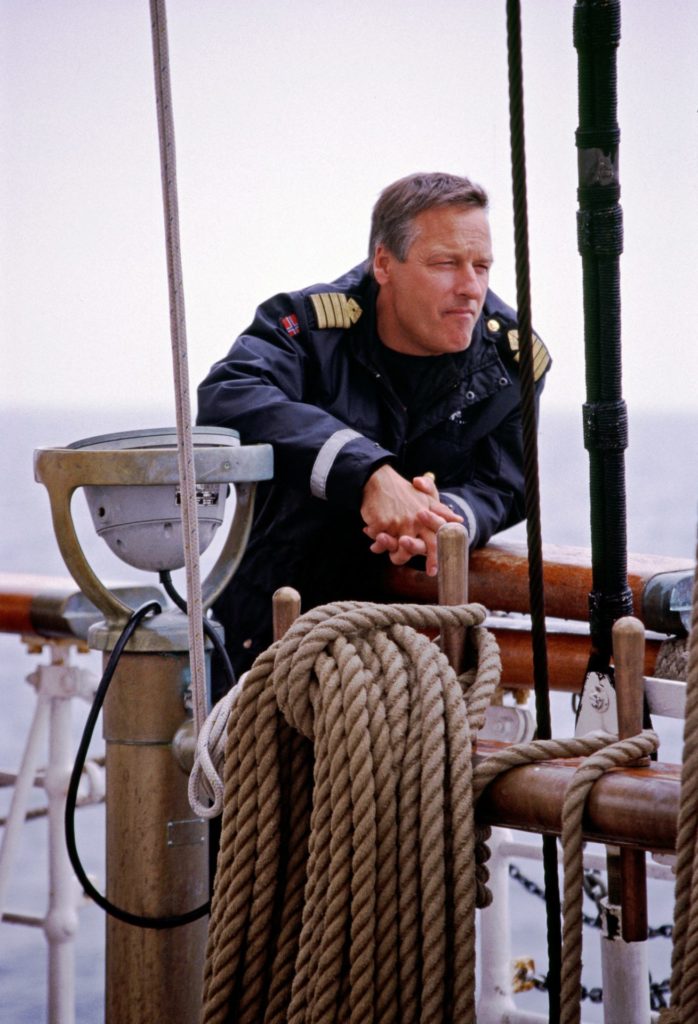 For the experienced captain it´s important that the ship always looks her best.
– I often emphasise that Lehmkuhl should be as good as spotless at all times, both inside and out. Whenever we have the opportunity, we always prioritise washing, painting and varnishing as soon as the opportunity arises
Circumnavigation and sustainability
In 2021, the Statsraad Lehmkuhl embarks on its first ever circumnavigation; The One Ocean Expedition. The purpose is to create awareness of the important role of the sea for sustainable development.
– For me, this is a nice continuation of the environmental commitment that started already with "Save Our Seas" in my childhood. We have a strong focus on sustainability on board and operate the ship with as little pollution as possible. With batteries recently installed on board and the use of biodiesel, we are becoming the world's most environmentally friendly tall ship in our class. In the old days it was common for ships to get rid of rubbish and discharges straight into the sea, but fortunately this is no longer the case. I believe that One Ocean Expedition can make a difference, by spreading the message of sustainability to the world.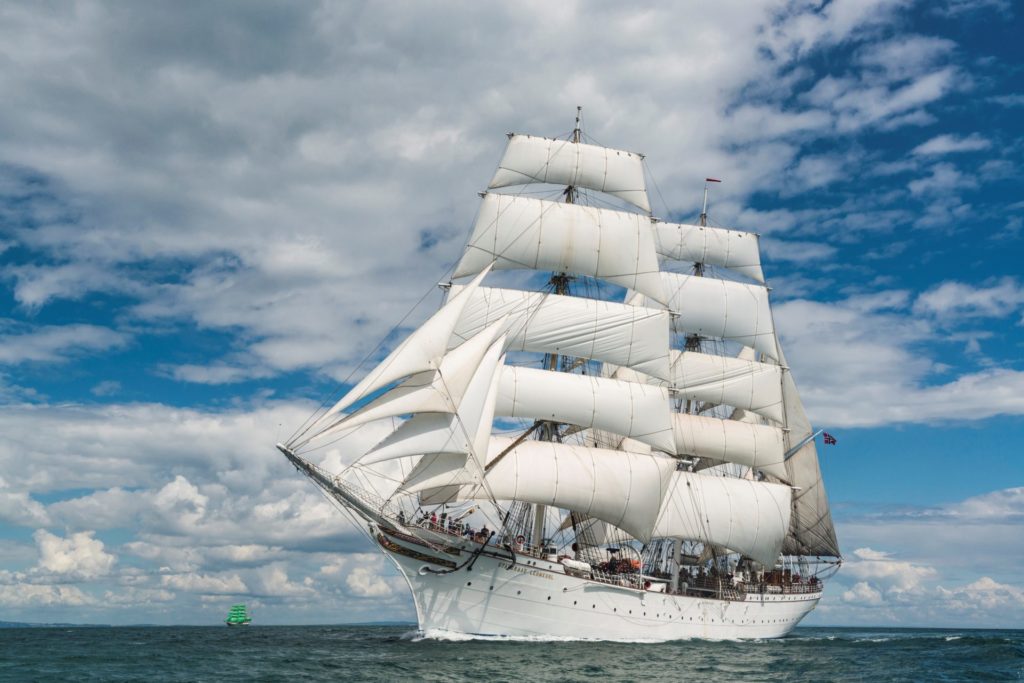 According to the captain, a circumnavigation is a dream come true for most sailors.
– One Ocean is an absolutely fantastic opportunity to sail around the world, and we are really looking forward to it. But the expedition is not only exotic and beautiful, it is also an exciting challenge with large dimensions. We will sail for a year and a half in oceans and to ports that are new to us, and we will undoubtedly face many new challenges.
Covid-19 in particular is a recurring theme in the preparations
– Naturally we hope that a vaccine is in place well before the expedition starts from Arendal in August 2021.
The audience in the Captain's Lounge is over, and the captain has meetings with the crew.
– I am very grateful for the great crew on board. They are becoming increasingly skilled at imparting the knowledge and values Statsraad Lehmkuhl stands for. When it comes to the job as captain, there are many coincidences that have led to where I am today, but I would not have done anything different. I am happy with my job at least 95% of the time. And the future looks bright, the captain concludes.
By Helene Spurkeland
Published 26.11.20